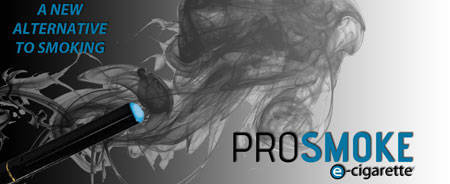 What makes ProSmoke extremely unique is that they were established in the Midwest by a team of researchers, developers, and business experts who were all smokers. Before ProSmoke they ran the highly successful www.e-cigaretteforum.net, where they were able to gather information from other smokers and work to find the ultimate solution for electronic smoking. Their team has extensive experience in product and brand development, manufacturing, selling, and marketing.
ProSmoke offers 2 type of starter kits. One at $59.99 and $94.99 which makes their Super Starter Kit extremely affordable compared to the competition. This coupled with their experience in the industry makes ProSmoke a great alternative to the chemicals found in traditional cigarettes.
Another cool feature is their accessories, which are some of the best we've seen to date. They include car chargers, cases and charging cases. This can help to complete your transformation from a cigarette smoker to an electronic cigarette smoker.
Look at what one of their customers had to say below:
Have you tried the ProSmoke Electronic Cigarette? Leave your comments and reviews below.